16 Jul

Tchaikapharma was awarded one of the most prestigious prizes in Pharmacy – Medicine of the Year for 2012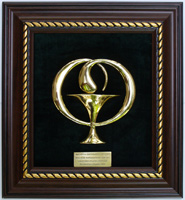 For the sixth consecutive year the Bulgarian Pharmaceutical Union held the Bulgarian Pharmaceutical Days under the motto "Equal Access to Medicines and Pharmaceutical care". The event was attended by 54 companies working in the area of developing medications and food supplements, as well as more than 1800 pharmacists, representatives of the executive and legislative authorities, professors from faculties of Pharmacy of the Medical Universities in Sofia, Plovdiv and Varna.
During the ball some pharmacists were presented with annual award of the Bulgarian Pharmaceutical Union, with Tchaikapharma receiving in the category "Prescription Drugs" the highest recognition for its newest product – Co-Irbesso.
Co-Irbesso film-coated tablets 150/12.5 and 300/12.5 is a medical product for treating essential hypertonia with no analogue on the Bulgarian market and great hopes to be well accepted by patients.
At this most important to the pharmaceutical society event of the year, Tchaikapharma presented its newest high-quality medical products, affordable for every patient.